Posie's Costume Cleanout
Great items for upcoming fairie events, ren faires, cosplay events, prom, etc!
I realize that I posted this 3 weeks ago but desperate times...I have come to the very sad conclusion that I have to sell off some of my fairie costuming in order to help my family get by. It is very hard for me to do but it is necessary. I figure it is time to let go, especially of items that I have only worn once...some of these things you may have seen in a previous post but there are MANY NEW AND FANTASTIC ITEMS ADDED!!! MY LOSS IS YOUR GAIN!
All items come from smoke and pet free home. If you would like exact measurements of any the items or additional photos, let me know and I will get them for you.
I have some extra surprises to throw in with purchases like miscellaneous jewelry, etc…
You pay shipping! Contact me by posting here or at posie at posiefairy dot com for questions or to claim items! Prices negotiable. First come, first serve. Paypal or money orders only.
Click the link for pics! Warning: Image heavy!
First, a teaser:
Large burgundy and green with gold accent woodland wings created by Lynne Jones of The Faerie Trail. Worn once. Very unique wings, their asymmentrical nature brings to mind spindly tree branches. These wings also feature a strapless option but could be worn with straps as well. As always, beautifully made and durable. I really love these wings but just dont gravitate toward them and the costume they go with (see next entry). They would be perfect for a woodland fae. Asking $80.
Burgundy and green woodland fae tutu dress. Worn once. Green velour leotard with burgundy netting and tulle tutu, accented with petal overskirt and petal straps. I painted the V at the bust burgundy with fine glitter (was nude before painting) and added the three roses to enhance the look. I cut the clear elastic straps off but others could easily be sewn on, if desired. Size Adult Large Asking $40
Handmade Art Necklace. Copper, burgundy and green beaded necklace featuring a green sculpy goddess face. Very beautiful. Asking $30
Red velour leotard with attached soft flowy tutu. Worn a handful of times. Panel added to crotch in an attempt to fit my long torso better. Size Large Asking $30 See below for accents to add to this costume (2 in 1)
For Valentine Fairy: Large pink roses with pin backings,red satin ribbon choker with pink rose. Asking $10 for all
For Holiday Fairy: Large cream poinsettias with pin backings, gold ribbon choker with poinsettia and berry accent, poinsettia and greenery head garland. Asking $15 for all
Red sparkly shoes with pink roses. Size 41 (10). Worn a handful of times. I painted these with fabric paint and hotglued the roses on. Asking $10
Charming pin oak wands created by Lynne Jones of The Faerie Trail. Asking $10 each. White and blue not available.
Now this is something for those of you with sewing skills. I took apart my Winter Fae costume (weeping a little on the inside) in order to create my coronation gown for this year's Fairie Festival at Spoutwood Farm. The dress is a size 16. So these three layers of tulle and net are just waiting to become part of your next creation! There are hundreds of tiny pearl-like beads sewn all over. Now, some of them are coming off here and there but nothing alarming. I would rather someone have this and do something with it than toss it in a bin. It came from a size 16 dress and is floor lenghth so it could easily be trimmed up...I could envision someone dying this, cutting it and sewing it onto a short strapless dress, make a elegant tattery-sort of costume... You can see some wear at the bottom and there is one spot that was stitched up ( I got it that way). Best Offer!
Here is the overlay, laying on my bed:
And the damage:
Beautiful white khussas with sequins and beads. Mule style. Beautiful for Prom! Size 9 1/2
Long wig, black with purple streaks. Great for Dark Fae/Goblin Princess/Cosplay characters. Layers. In good shape but needs styling. Asking $20
Also pictured: Small Dark Fae wings, created by Lynne Jones of The Faerie Trail. These are exquisitely made and highly durable. Features a strapless option, pegs that sit down under your bodice or bra. Can be worn with straps, too. These wings were worn for an award-winning costume(pictured)at a Rocky Horror Picture Show Convention in Los Angeles. Sexy and adorable wings! Asking $50.
Large pink sparkly wings, made by My Fairy Workshop/Bernadette Munday. Well cared for, excellent condition. Asking $25
Purple and green ballet dress, leotard with long tutu. Festooned with flowers on the straps. Size L, too short in the torso for me. Beautiful! NEVER WORN. Asking $30
Short wig, black with purple streaks. Betty Page bangs. In good shape but needs styling. Asking $20
Long mauve dress. I was a size 12/36D when it was made for me. Has dark stains on front and sleeve, also sweat stains under arms, could be dyed a darker color to cover. Very pretty dress. Asking $20
Vintage black sequin and beaded fringe sleeveless shell. Excellent condition. Size 40 (bust) Asking $30
Black strappy platform sandals. Painted black, you can see a little of the original color in spots (red) Straps painted with red glitter fabric paint for subtle sparkle. Size 10. Asking $10
Black knee high leather platform boots. Big KISS-like platforms. European size 39. Heavy use but in great shape. Small (less than half inch) bit of stitching needs to be restitched on one seam. Would make awesome (but not 100% screen accurate) Frank N Furter boots for dinner scene costume. Also good Cosplay item. Asking $30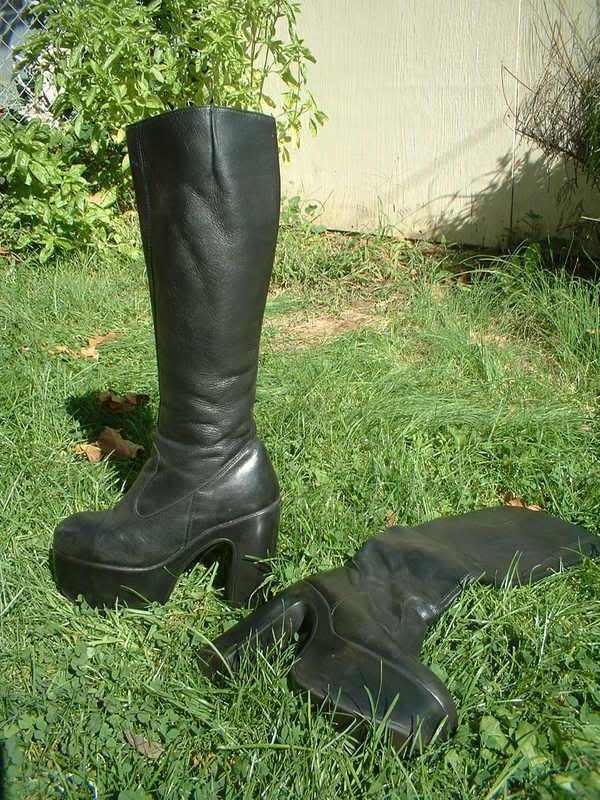 Brown and copper dress, short, very flirty and SHIMMERY! Strapless. Nice for Prom or any costuming. Never worn. Size 16 Asking $25
Pretty beaded tan and copper sandals. Great match for copper dress above. Size 9 1/2 Never worn. Asking $10
White sequin (white pastel iridescent) shoes. Size 10, never worn. Fairy Princess ready! Asking $10
Very beautiful pink sequin and beaded clutch. Includes silver chain for shoulder bag. Never used. Asking $10
Sparkly kitten heeled shoes. Fairy Princess ready! Size 9. Never worn. Asking $15